Parents' Choice Award Winner

Our Philosophy
We believe that each individual who comes to us for dance instruction has the innate drive to achieve at his or her personal best. Classical ballet pedagogy is the premier training system for the study of dance. Whether a dancer aspires for a professional career or a rewarding hobby, the correct study of the classical ballet will result in a strong, well- developed body with rewarding range of motion and expressive interpretation of music.
Mission Statement
To offer systematic classical ballet curriculum from beginning levels to pre-professional levels. To foster the artistic development of all students in the musicality and interpretation of ballet as a performing art. To deliver instruction based on the best current practices in safe physical training and practical performing skills. To mentor each student in personal goals in ballet, whether as a profession, a college scholarship and degree, or a rewarding hobby. To create dancers who move with joy and passion.
Founder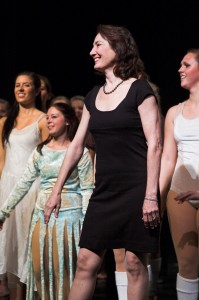 Yelena Holt has been an educator and dance instructor in Nevada County since 1980. With a background in dramatic and musical theater, classical ballet from Crockett School of Dance and Sacramento Ballet, and a State of California Credential and Masters in English Literature from the University of California, Berkeley, Mrs. Holt has nurtured Nevada County's young dancers in achieving exemplary skills, not only in dance but in all walks of their lives. Mrs. Holt has initiated and developed three public high school dance programs: Dixon High School from 1975 to 1980: Bear River High School from 1989 to 1995; and Nevada Union High School from 1994 to 2010.  She was also the owner of Nevada County Ballet School from 1982 to 1986. After her retirement from public school education in 2010, Mrs Holt saw a need to direct the training in the dance arts for both younger and older students. With 35 years of experience in developing dancers, Yelena Holt, through Holt Ballet Conservatory, aims to guide Nevada County aspiring dance artists in the training and opportunities they need in order to become beautiful dancers and empowered people. Holt Ballet Conservatory not only trains young people in the magical skills of dance technique, but also creates opportunities for the trained dancers to showcase their talents.
Yelena Holt has place more than 60 Nevada Country dancers in some of the nations more competitive and highly acclaimed dance conservators, universities and colleges, and pre-professional programs: