The story of Paquita is appropriate for all ages. Taking place in Napoleonic Spain, this ballet weaves a tale of Spanish aristocrats, gypsies and a forbidden romance.
Audiences for both shows (June 12 and 13 at the Don Baggett Theater) were wonderful to perform in front of, and we're so grateful to have shared such a magical evening with so many!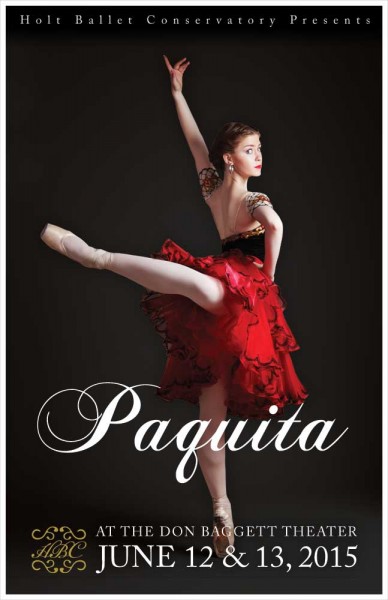 Paquita is one of classical ballet's most beautiful, playful, and engaging ballets. Rarely produced in its original form since its acclaimed opening in 1846, Holt Ballet meticulously reconstructed the complete works from rare archives held by Paris Opera Ballet and recently made available to Director Yelena Holt with the sole purpose of bringing the splendor of this once renowned masterpiece back to life.
Holt Ballet has recreated the original choreography and music in not just the final act, as are the limits of most modern-day productions, but all three. Bringing this complete original work to life was a delight for all our ballet devotees, as well as every one of our novice classical art lovers whom we are immensely pleased to call our patrons.
Beautiful sets, by Pamela Hodges and Tom Taylor, adorned hand-crafted costumes from our master European designer. Professional guest artist performances by Nora Heiber and Kermit Allen are sure to be remembered, performing both evenings with the Holt Ballet Conservatory dancers.
Thank you all for helping bring this amazing spectacle to life once more!